Celebrate your
wedding or Event with us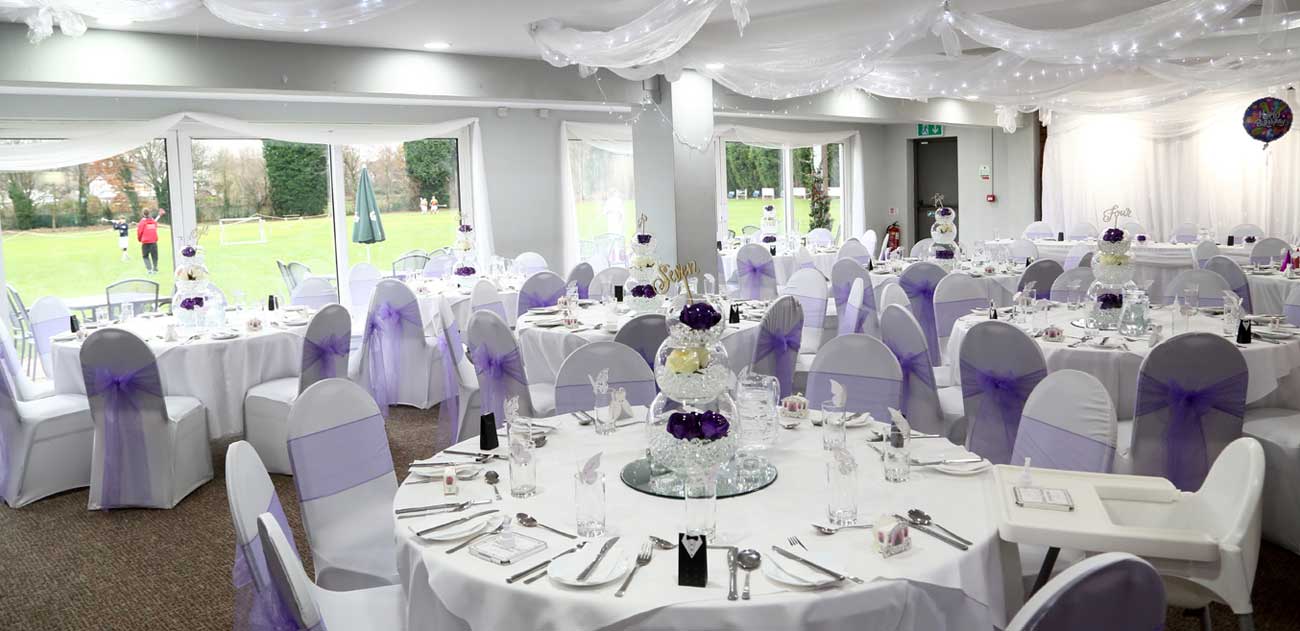 The Cavendish Suite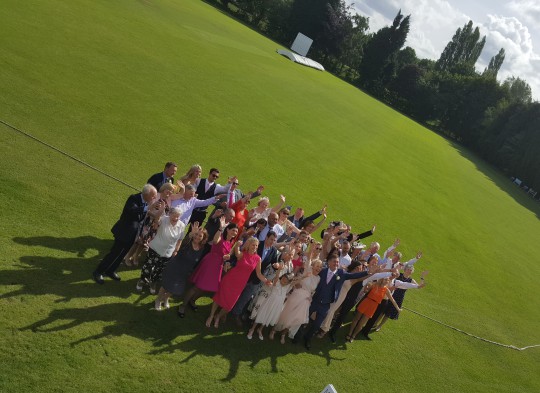 Overview
Families searching for the perfect venue for their special event need look no further than The Cavendish Suite. We cater for weddings of all sizes, while its idyllic grounds offer the perfect setting for photographs that will last a lifetime. Birthdays, Anniversaries, Christenings and other celebrations are also accommodated on a regular basis.
Corporate clients can take advantage of the various different room sizes for a range of events. These include board meetings, interview panels and team building sessions with outdoor field space also available.
To get in contact please call 0161 789 0377 or click here.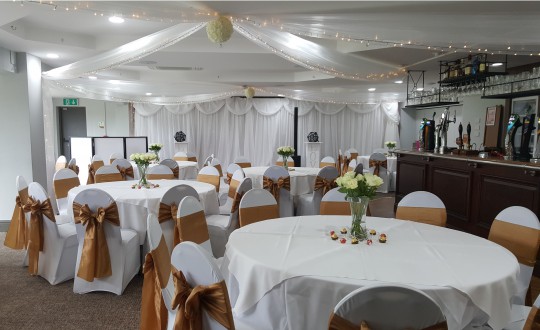 Our Rooms
The Cavendish Room holds 70 people (seated on round tables) and enjoys views out onto the grounds of the club. Access to the club's patio, with outside seating is also available when using this room. The room opens up for larger numbers of up to 140 guests or provides further space for entertainment.
The Oakwood Lounge is ideal for mid-week smaller, more intimate functions or business meetings. It also has its own bar.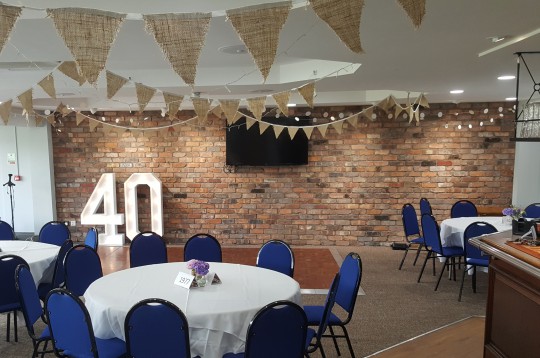 Event Planning
Whatever your reason for booking, our expert event coordinators can help you plan the perfect function, with options available to suit all budgets.
From room dressing ideas to help with photographers, florists, entertainers and much more, they are on hand to take the stress out of planning your special day. When it comes to business bookings, our planners can provide you with the technology and equipment you need to bring your event to life. Do not hesitate to get in contact to arrange a viewing or find out more about our services.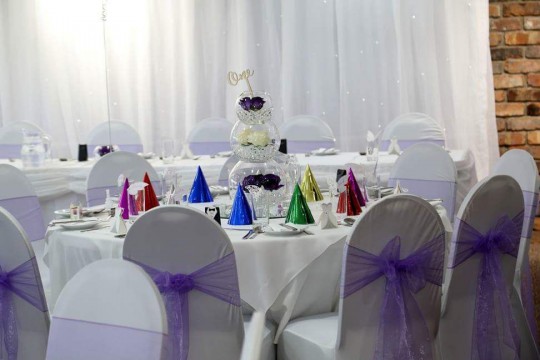 Dining
Our specialist in-house caterers will work with you to design the perfect menu for your function. This can range from buffets to suit all tastes, all the way through to 4 course fine dining options.
If you are organising a smaller family event or business function, lighter dining options, as well as tea and coffee are also available. Private dinners can also be arranged to create the perfect ending to a corporate event.
Click here for sample buffet menus.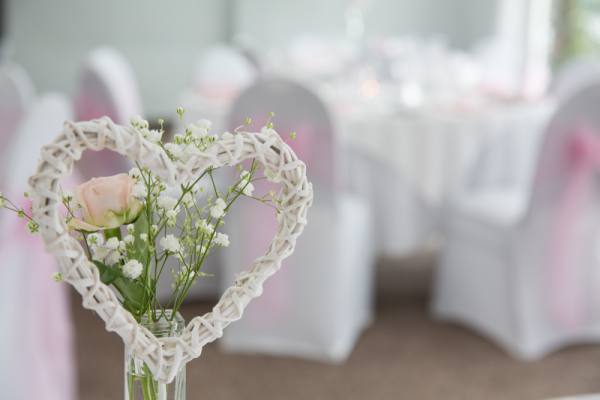 Testimonials
Don't just take our word for it, we are proud to receive great feedback from many of our guests. If you would like to hear more from those who have hosted their events here over the past year, click here.
Events Coming up
25.07.23 - School prom 120 guests 18:00 0 22:00
29.07.23 Wedding 150 guests 17:00 - 00:00
04.08.23 - PCA cricket match 200 guests 11:00 - 00:00
05.08.23 - Wedding 150 guests 14:00 - 00:00
10.08.23 Funeral 60 guests 11:00 - 17:00
12.08.23 Wedding 110 adults 13:00 - 00:00
13.08.23 Christening 40 guests 14:00 - 20:00
19.08.23 Wedding 80 guests 16:00 - 00:00
26.08.23 Wedding 70 guests 16:00 - 22:00
09.09.23 Wedding 80 guests 13:00 - 00:00
10.09.23 Birthday 55 guests 12:00 - 16:00
16.09.23 Wedding 150 guests 14:00 - 00:00
17.09.23 Christening 130 guests 13:30 - 20:00
22.09.23 Wedding 100 guests 13:00 - 00:00
23.09.23 Birthday party 60 guests 18:00 - 00:00
30.09.23 Wedding 120 Guests 18:00 - 00:00
06.10.23 Presentation evening 18:00 - 00:00 80 guests
07.10.23 Birthday Party 110 Guests 18:00 - 00:00
08.10.23 Christening 80 guests Time TBC
13.10.23 Funeral 70 guests 11:30 - 16:30
14.10.23 Wedding 120 guests 14:00 - 00:00
15.10.23 Christening 110 guests 13:00 - 20:00
23.10.23 Funeral 85 Guests 14:00 - 20:00
27.10.23 Club Halloween party 150 guests 18:00 - 00:00
28.10.23 Wedding 120 guests 14:00 - 00:00
31.10.23 Funeral 50 Guests 15:00 - 20:00
02.11.23 Funeral 100 guests time tbs
03.11.23 Funeral 40 guests 15:00 - 19:00
03.11.23 Birthday party 50 guests 19:00 - 00:00
05.11.23 Christening 60 guests 14:00 - 19:00
10.11.23 Birthday Party 120 guests 19:00 - 00:00
11.11.23 Engagement Party 110 guests 19:00 - 00:00
12.11.23 Christening 65 guests 12:00 - 16:00
18.11.23 birthday Party 70 guests 19:00 - 00:00
19.11.23 Naming Ceremony 125 guests 13:00 - 20:00
20.11.23 Funeral 70 Guests time TBC
24.11.23 Funeral 100 guests time 13:30 - 21:00
25.11.23 Birthday Party 90 guests 19:00 - 00:00
01.12.23 Lacrosse Xmas party 100 guests 18:00 - 00:00
02.12.23 30th Birthday 120 guests 19:00 - 00:00
03.12.23 Xmas party 110 guests 14:00 - 19:00
06.12.23 Funeral 70 guests 13:00 - 18:00
07.12.23 Xmas party 130 guests 18:00 - 23:00
08.12.23 Birthday party 150 guests 19:00 - 00:00
09.12.23 Birthday Party 140 guests 19:00 - 00:00
10.12.23 Birthday party 13:00 - 19:00
The Latest From Instagram